Anti-Müllerian hormone as a marker of steroid and gonadotropin action in the testis of children and adolescents with disorders of the gonadal axis
International Journal of Pediatric Endocrinology
2016
2016:20
Received: 3 September 2016
Accepted: 12 October 2016
Published: 28 October 2016
Abstract
In pediatric patients, basal testosterone and gonadotropin levels may be uninformative in the assessment of testicular function. Measurement of serum anti-Müllerian hormone (AMH) has become increasingly widespread since it provides information about the activity of the male gonad without the need for dynamic tests, and also reflects the action of FSH and androgens within the testis. AMH is secreted in high amounts by Sertoli cells from fetal life until the onset of puberty. Basal AMH expression is not dependent on gonadotropins or sex steroids; however, FSH further increases and testosterone inhibits AMH production. During puberty, testosterone induces Sertoli cell maturation, and prevails over FSH on AMH regulation. Therefore, AMH production decreases. Serum AMH is undetectable in patients with congenital or acquired anorchidism, or with complete gonadal dysgenesis. Low circulating levels of AMH may reflect primary testicular dysfunction, e.g. in certain patients with cryptorchidism, monorchidism, partial gonadal dysgenesis, or central hypogonadism. AMH is low in boys with precocious puberty, but it increases to prepubertal levels after successful treatment. Conversely, serum AMH remains at high, prepubertal levels in boys with constitutional delay of puberty. Serum AMH measurements are useful, together with testosterone determination, in the diagnosis of patients with ambiguous genitalia: both are low in patients with gonadal dysgenesis, including ovotesticular disorders of sex development, testosterone is low but AMH is in the normal male range or higher in patients with disorders of androgen synthesis, and both hormones are normal or high in patients with androgen insensitivity. Finally, elevation of serum AMH above normal male prepubertal levels may be indicative of rare cases of sex-cord stromal tumors or Sertoli cell-limited disturbance in the McCune Albright syndrome.
Keywords
Testis
Sertoli
Cryptorchidism
Puberty
Disorders of sex development
Background
In the adult male, the appraisal of the endocrine function of the gonadal axis usually relies on the assessment of serum levels of gonadotropins, testosterone and inhibin B. In pediatric ages, basal testosterone and gonadotropin levels may be largely uninformative. In fact, gonadotropin and testosterone secretion is active only during 3 to 6 months after birth in the male; thereafter, their serum levels remain very low or undetectable until the onset of puberty [1]. However, the use of non-classical biomarkers, like anti-Müllerian hormone (AMH), has become increasingly widespread since it not only informs about the activity of the male gonad without the need for dynamic tests but also reflects the action of FSH and androgens within the gonad [2]. This review will address the usefulness of AMH as a biomarker of testicular function in prepubertal and adolescent males, based on the knowledge of the endocrine regulation of testicular AMH secretion during pre- and post-natal development.
Developmental physiology of the hypothalamic-pituitary-testicular axis
Testicular function is mainly regulated by the pituitary gonadotropins LH and FSH, which in turn depend on gonadotropin-releasing hormone (GnRH) action, from the hypothalamus. This hypothalamic-pituitary-gonadal axis evolves throughout development, from fetal life through adulthood. Specific maturational changes take place both in these organs as a whole and in the different cell types that make them up.
While sperm production has classically been the focus of adult reproductive function, somatic cells are crucial for the maintenance of spermatogenesis and gamete production. In the interstitial tissue, Leydig cells synthesize androgens and the insulin-like factor 3 (INSL3) [3], whereas in the seminiferous tubules, Sertoli cells regulate the nutrients and factors that reach the germ cells by means of the blood-testis barrier. Sertoli cells not only regulate the inflow of external substances, but also produce several substances which are critical to the proper progression of spermatogenesis [4]. Therefore, it appears evident that the assessment of gonadal function and the definition of male hypogonadism should rely on the understanding of normal testicular physiology resulting from the integrated function of the tubular and interstitial compartments, and its developmental changes from fetal life through maturity [5].
Sertoli cells as the most active population in the developing testis
Unlike the adult testis, where germ cells represent most of the gonadal size and Leydig cells are the most active endocrine cell population, in the prepubertal testis, Sertoli cells are the most numerous [6] and active testicular cell population [7, 8]. Even though Sertoli cells remain active during infancy and childhood, the testes have been erroneously considered as quiescent due to the reduced activity of the hypothalamic-gonadotrope axis. This activity is clearly reflected on the high levels of serum AMH and inhibin B.
Earlier in development, during fetal life and early infancy, the active hypothalamic-gonadotrope axis has effects on the seminiferous cords, reflected in the proliferation of both immature germ and Sertoli cells [
9
]. Sertoli cell proliferation, essentially dependent on FSH, results in a moderate increase in testicular volume, which cannot be detected by palpation [
6
,
10
–
12
] but is clearly measurable by ultrasonography [
13
] (Fig.
1a
).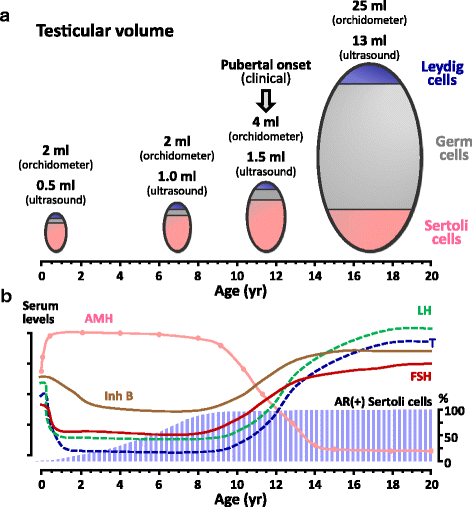 It is around the onset of puberty that Sertoli cells undergo major morphological and physiological changes, leading to the switch from a proliferative, immature state, to a quiescent, mature one. Morphologically, there are changes in the nucleus and nucleolus [14]. The blood-testis barrier becomes distinct, creating two separate compartments within the tubules. Germ cells in the adluminal compartment become dependent on the function of the, now mature, Sertoli cells [15]. These maturational changes observed in Sertoli cells are induced essentially by an increase of intratesticular testosterone concentration early in pubertal development [14, 16]. Interestingly, Sertoli cells do not show maturational changes, in spite of the active androgen testicular production, during fetal and neonatal periods of life. This is due to the fact that before the age of 1 yr in humans [17, 18], the androgen receptor is not expressed in Sertoli cells (Fig. 1b), as experimentally confirmed in mice [19, 20].
AMH as a marker of prepubertal Sertoli cells: physiological concepts
AMH, also known as Müllerian Inhibiting Substance (MIS), is a glycoprotein dimer belonging to the transforming growth factor β (TGF-β) family [21, 22], which plays a major role in fetal sex differentiation by inducing the regression of the Müllerian ducts.
In the male, AMH expression begins when the seminiferous cords differentiate in the fetus [
23
], and remains high until puberty [
23
–
26
] (Fig.
1b
and Table
1
). The onset of AMH expression in fetal life is independent from gonadotropins, and involves several transcription factors. Initially, SOX9 binds to the AMH promoter [
27
,
28
] and triggers its expression; subsequently, other transcription factors, such as SF1 [
27
,
29
,
30
], GATA4 [
30
,
31
] and WT1 [
32
], further increase AMH production.
Table 1
Serum AMH levels in normal boys
Age

Serum AMH

pmol/la

ng/mla

<14 days

250–1000

35–140

15 days – 6 months

400–1500

55–210

6 months – 2 years

600–2300

85–320

2–9 years

400–1800

55–250

9–18 years:

 Tanner 1

250–1400

35–200

 Tanner 2

70–1000

10–140

 Tanner 3

30–400

4–55

 Tanner 4

30–160

4–22

 Tanner 5

30–150

4–21

Adults

25–130

3–18
Because AMH is exclusively secreted into the circulation by Sertoli cells [33, 34], it has become one of the most useful markers to study testicular function during the prepubertal period in the male [35–37]. In the female, AMH is produced by ovarian granulosa cells of primary and small growing follicles up until transition to menopause [38–41].
AMH as a marker of FSH action in the testis
Once AMH expression is triggered independently of gonadotropins in fetal and postnatal life, FSH further increases testicular AMH output by inducing Sertoli cell proliferation and up-regulating AMH transcription (Fig.
2
), which explains why patients with congenital central (hypogonadotropic) hypogonadism have low AMH serum levels that increase after treatment with exogenous FSH [
42
,
43
]. These results clearly demonstrate that serum AMH is an adequate marker of FSH action in the prepubertal testis. The usefulness of serum AMH levels as an indicator of FSH action has also been studied in rodents: the absence of FSH stimulation during fetal and neonatal life results in low levels of AMH due to a decrease in Sertoli cell number and AMH expression, correlating also with smaller testes [
44
]. FSH administration to neonatal mice provokes an increase in testicular volume and in AMH transcription through the classical FSH receptor transduction pathway involving Gsα protein, adenylyl cyclase and stimulation of protein kinase A (PKA) activity, leading to the involvement of the aforementioned transcription factors SOX9, SF1, GATA4, and also of NFκB and AP2 [
2
,
20
,
44
,
45
] (Fig.
2
).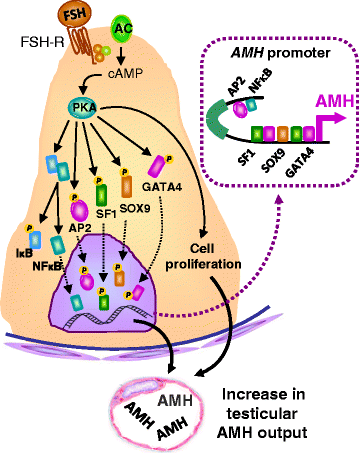 AMH as a marker of androgen action in the testis
At the onset of puberty, AMH serum levels start declining, as compared to prepubertal levels, and continue to decrease throughout puberty [
46
] (Fig.
1b
and Table
1
), as a consequence of the negative effect exerted by intratesticular testosterone via the androgen receptor [
20
,
47
] (Fig.
3
). The androgen-mediated downregulation of AMH expression occurs concomitantly with the appearance of meiotic germ cells in the seminiferous tubules, indicating Sertoli cell maturation [
20
,
47
,
48
]. The inhibitory effect of androgens on AMH expression overrides the FSH-dependent stimulation in normal puberty (Fig.
3
). The androgen-dependent inhibition of AMH has also been observed in central precocious puberty and in male-limited gonadotropin-independent precocious puberty (testotoxicosis), clearly indicating that androgens are responsible for AMH down-regulation independently of gonadotropin levels [
46
]. Interestingly, the decline of AMH levels reflects an increase in intratesticular, and not necessarily circulating, testosterone concentration, as observed in the earliest stages of puberty [
26
,
46
]. Conversely, in patients with central hypogonadism treated with exogenous testosterone, serum AMH remains high indicating that intratesticular androgen concentration is low [
49
]. This is in line with the lack of increase in testicular volume, since pubertal and adult spermatogenesis needs sufficient intratesticular androgen concentration to develop. Similarly, in cases of constitutional delay of puberty [
50
,
51
] or of defective androgen production or sensitivity [
20
,
52
,
53
], the lack of androgen production or action results in the maintenance of high AMH levels (Fig.
3
).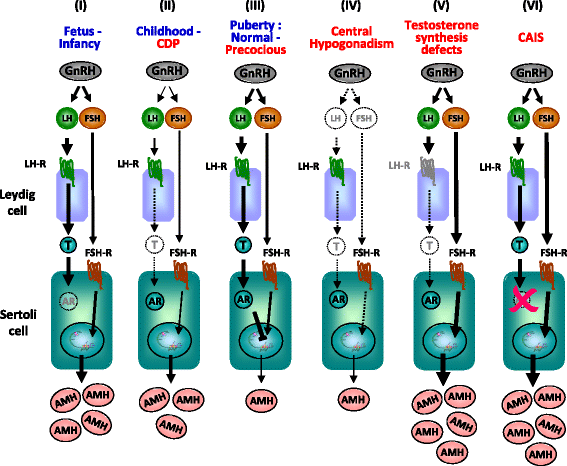 Androgen-mediated AMH down-regulation is also not observed in fetal life and during the first year of postnatal life (Fig. 3), even in patients with precocious puberty, owing to the above-mentioned physiological androgen insensitivity of Sertoli cells, which is consequence of the lack of androgen receptor expression in Sertoli cells in those periods of life [17, 18, 54, 55].
Ever since Alfred Jost postulated the existence of AMH [56], it has been referred to as the fetal testicular hormone guiding the regression of the Müllerian ducts in the male fetus. The biological reasons for ongoing expression of AMH throughout childhood have been the source of many debates. Nonetheless, AMH detection in serum has become a very powerful tool in pediatrics. In the following part of this review, we aim to summarize the main conditions in which AMH can be used as a proper marker of Sertoli cell function in boys.
Serum AMH in the diagnosis of conditions affecting testicular function
Conclusions
Serum AMH is an extremely helpful marker for assessing testicular function in pediatric patients. In 46,XY patients with non-palpable gonads and in newborns with DSD, serum AMH is informative about the existence and functional capacity of testicular tissue. Serum AMH levels are commensurate with the amount of functional Sertoli cells present in prepubertal patients, including those with micro- or macro-orchidism, or ovotesticular DSD. Serum AMH is also a reliable marker of FSH action in the prepubertal testis, both in basal conditions to diagnose central hypogonadism and to monitor FSH treatment. Finally, declining serum AMH is indicative of effective androgen action within the seminiferous tubules, and therefore a useful marker in the diagnosis and follow-up of patients with precocious or delayed puberty.
Abbreviations
AMH:

Anti-Müllerian hormone
AMH-R:

AMH receptor
AR:

Androgen receptor
CAIS:

Complete androgen insensitivity syndrome
CDP:

Constitutional delay of puberty
DSD:

Disorders of sex development
FSH-R:

FSH receptor
GnRHa:

GnRH analogue
INSL3:

Insulin-like factor 3
LH-R:

LH receptor
MIS:

Müllerian inhibiting substance
PKA:

Protein kinase A
PMDS:

Persistent Müllerian duct syndrome
T:

Testosterone
TGFβ:

Transforming growth factor β
Declarations
Acknowledgements
Not applicable.
Funding
This work was partially supported by grants PIP-11220120100279 of the Consejo Nacional de Investigaciones Científicas y Técnicas (CONICET), Argentina, to RAR and HFS, and PICT 2014-2490 of the Agencia Nacional de Promoción Científica y Tecnológica (ANPCYT), Argentina to RPG.
Availability of data and material
Not applicable.
Authors' contributions
All authors participated in the conception and writing of the manuscript. Its final version was approved by all the authors.
Authors information
Not applicable.
Competing interests
RPG and RAR have received honoraria from the Consejo Nacional de Investigaciones Científicas y Técnicas (CONICET), Argentina, for technology services using the AMH ELISA. NYE and HFS declare that they have no competing interests.
Consent for publication
Not applicable.
Ethics approval and consent to participate
Not applicable.
Open AccessThis article is distributed under the terms of the Creative Commons Attribution 4.0 International License (http://creativecommons.org/licenses/by/4.0/), which permits unrestricted use, distribution, and reproduction in any medium, provided you give appropriate credit to the original author(s) and the source, provide a link to the Creative Commons license, and indicate if changes were made. The Creative Commons Public Domain Dedication waiver (http://creativecommons.org/publicdomain/zero/1.0/) applies to the data made available in this article, unless otherwise stated.
Authors' Affiliations
(1)
Centro de Investigaciones Endocrinológicas "Dr. César Bergadá" (CEDIE), CONICET – FEI – División de Endocrinología, Hospital de Niños Ricardo Gutiérrez, Buenos Aires, Argentina
(2)
Departamento de Ecología, Genética y Evolución, Facultad de Ciencias Exactas y Naturales, Universidad de Buenos Aires, Buenos Aires, Argentina
(3)
Departamento de Biología Celular, Histología, Embriología y Genética, Facultad de Medicina, Universidad de Buenos Aires, Buenos Aires, Argentina