Prader-Willi syndrome: A primer for clinicians
International Journal of Pediatric Endocrinology
2011
2011:12
Received: 16 June 2011
Accepted: 18 October 2011
Published: 18 October 2011
Abstract
The advent of sensitive genetic testing modalities for the diagnosis of Prader-Willi syndrome has helped to define not only the phenotypic features of the syndrome associated with the various genotypes but also to anticipate clinical and psychological problems that occur at each stage during the life span. With advances in hormone replacement therapy, particularly growth hormone children born in circumstances where therapy is available are expected to have an improved quality of life as compared to those born prior to growth hormone.
This manuscript was prepared as a primer for clinicians-to serve as a resource for those of you who care for children and adults with Prader-Willi syndrome on a daily basis in your practices. Appropriate and anticipatory interventions can make a difference.
Keywords
Growth HormoneObstructive Sleep ApneaSleep Disorder BreathingExcessive Daytime SleepinessGrowth Hormone Treatment
Introduction
First described by Prader, Labhart and Willi in 1956 [1], this syndrome represents the most common genetic cause of obesity with an estimated incidence of 1:15,000 to 1:25,000 live births [2, 3]. Reported prevalence rates vary among countries but both sexes appear to be equally affected. Prader-Willi syndrome (PWS) is the first human syndrome identified with genomic imprinting [4]. The original descriptions of this syndrome included short stature, hypotonia, hypogonadism and mental retardation [1]. As infants grow to age 2-4 years, failure to thrive related, at least in part, to poor muscle tone and poor suck are replaced by increased appetite and food intake resulting in obesity and its comorbidities. Early diagnosis and intervention to prevent obesity and the associated complications are critical.
Genetic testing and genetic counseling
Candidate genes for Prader-Willi syndrome have been located on the long arm of chromosome 15q11-q13. These genes are physiologically imprinted and silenced on the maternally inherited chromosome. PWS arises when the paternally derived genes are missing, defective or silenced. The frequencies of each are shown in Table
1
.
Table 1
Frequency of genetic subtypes associated with PWS
| Subtype | Frequency |
| --- | --- |
| Paternal deletion of chromosome 15q11-q13 (type I or II) | 75% |
| Maternal uniparental disomy (UPD) | 24% |
| Imprinting center defects (ID) | 1% |
| Translocation | < 1% |
High resolution chromosomal analysis (HRCA) is done along with the fluorescence in situ hybridization (FISH) to detect deletions and translocation of chromosome 15 [5]. Deletion has been divided in type I (TI) and II (TII) according to the size. Studies indicate that individuals with the TI (~500 kb larger than TII) generally have more behavioral and psychological problems than individuals with the TII and UPD [6]. Negative FISH or karyotype analysis does not exclude the diagnosis and thus if done first should be followed by DNA methylation analysis. DNA methylation analysis is the only technique which can both confirm and reject the diagnosis of PWS, and therefore should typically be the investigation of choice. This is most commonly done using DNA methylation-specific techniques at the SNURF-SNRPN locus [7, 8]. If DNA methylation analysis shows only a maternal pattern, then PWS is confirmed. Further methods may then be performed to determine the genetic subtype and allow appropriate genetic counseling. DNA methylation analysis has a sensitivity exceeding 99%; however, it does not differentiate between deletion, UPD and imprinting defect. In order to distinguish a maternal UPD from an imprinting defect, further DNA polymorphism analysis should be performed on the proband and parents [9, 10].
Most cases of Prader-Willi syndrome occur sporadically. The overall recurrence risk is dependent on the type of molecular defect. In families where the proband has either maternal disomy or deletion, the recurrence risk is small (less than 1%). Patients with an imprinting defect warrant further investigation in a specialized laboratory to determine whether an imprinting center deletion is present. Those families with a child with an imprinting center deletion have a recurrence risk of up to 50% if the father of the child is a carrier for the imprinting center deletion [11]. When a deletion is the result of a translocation or structural rearrangement involving chromosome 15, then the recurrence risk can be high. The actual risk in individual families depends upon the rearrangement which they carry. Overall, the risk of recurrence in the case of chromosomal translocations has been estimated up to 15%.
In the future the methylation-specific multiplex ligation PCR amplification may be more widely used because it has the advantage of combining dosing and DNA methylation analysis in one assay, thus distinguishing different subtypes [12].
Clinical Presentation
Infants with Prader-Willi syndrome present with neonatal hypotonia, hypoplasia of the clitoris/labia minora in girls and small penis and undescended testis in boys. Their hypotonia is associated with poor suck and feeding, often resulting in failure to thrive. Mothers may report decreased fetal activity and infants are often found in the breech position at the time of delivery. Clinical features include increased neonatal head:chest circumference ratio, narrow bifrontal diameter, dolichocephaly, almond shaped eyes, downturned angles of the mouth with abundant and thick saliva, small hands and feet with straight borders of the ulnar side of the hands and inner side of the legs. The presence of some of these features associated with neonatal hypotonia should alert physicians for early diagnosis of PWS during infancy. These features may become more prominent by age 2-3 years (Figures
1
and
2
). Excessive eating and obsession with food generally begins in the preschool age group and will lead to morbid obesity if not controlled.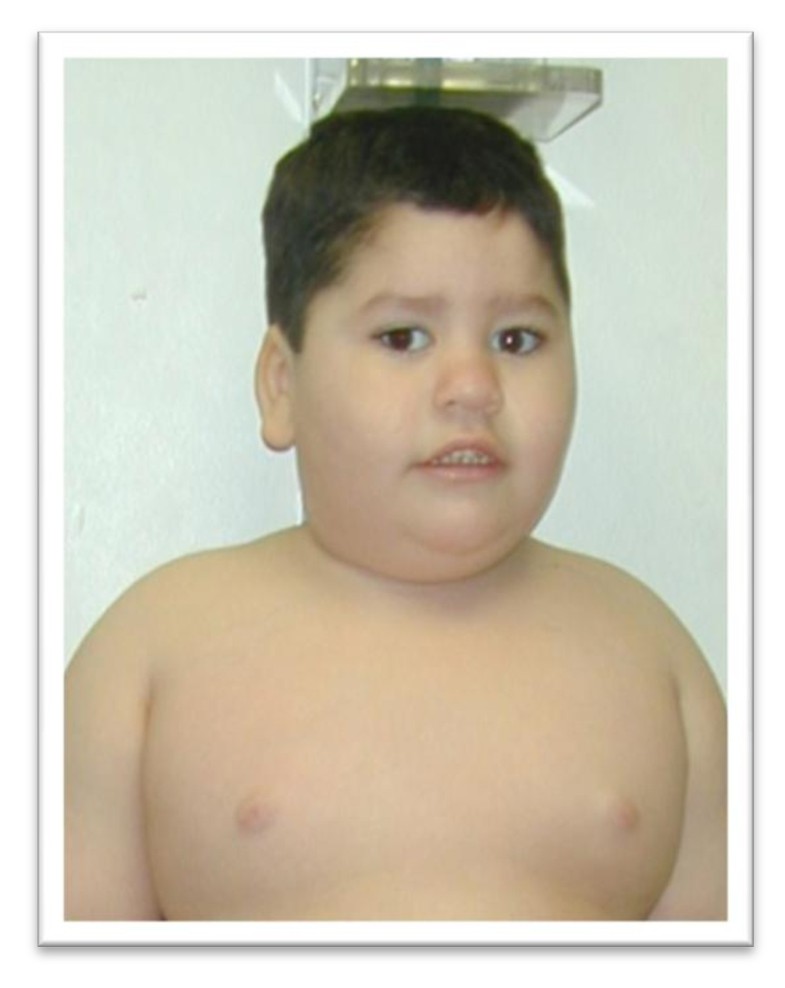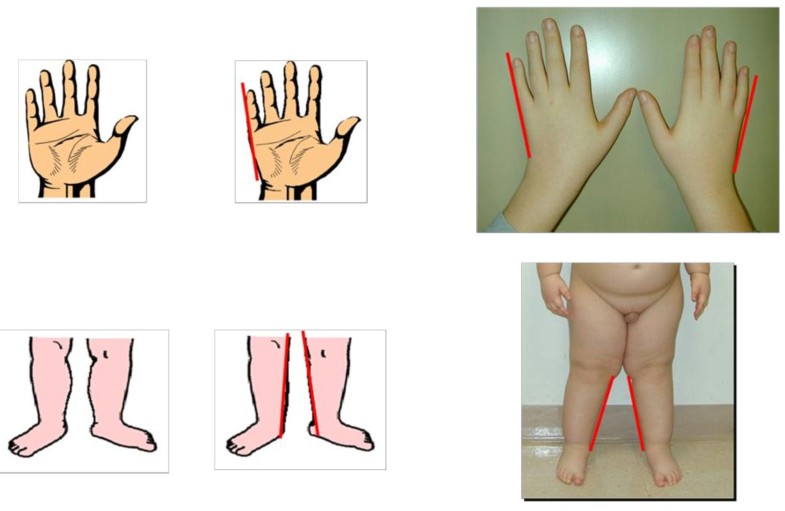 As these individuals age, manifestations, such as obesity, short stature, hypogonadism, skin picking, learning disabilities, behavioral and psychiatric problems become more evident. Consensus criteria for the clinical diagnosis of PWS were first established in 1993 by Holm et al [13]. These criteria were used until the introduction of the highly sensitive genetic testing, described above. Currently, these criteria are used as a screening tool for determining the need for further PWS specific genetic testing. In many infants poor cry and unexplained hypotonia may be the only clear clinical manifestations and indication for genetic testing.
As many as 16.7% of patients diagnosed with molecular testing do not meet these clinical diagnostic criteria, therefore a revised clinical criteria to help identify the appropriate patients for DNA testing was proposed in 2001 [
14
] and modified in 2008 [
15
]. See Table
2
for composite, including additional features suggested by authors.
Table 2
Indications for DNA testing
| Age at assessment | Features sufficient to prompt DNA testing |
| --- | --- |
| Birth to 2 yr | Hypotonia with poor suck |
| 2-6 yr | Hypotonia with a history of poor suck |
| | Global developmental delay |
| | Short stature and/or growth failure associated with accelerated weight gain |
| 6-12 yr | Hypotonia with a history of poor suck (hypotonia often persists) |
| | Global developmental delay |
| | Excessive eating (hyperphagia, obsession with food) with central obesity if uncontrolled |
| | Short stature and/or decreased growth velocity* |
| 13 yr through adulthood | Cognitive impairment, usually mild mental retardation |
| | Excessive eating (hyperphagia, obsession with food) with central obesity if uncontrolled |
| | Short stature and/or decreased growth velocity* |
| | Hypothalamic hypogonadism and/or typical behavior problems (including temper tantrums and obsessive-compulsive features) |
Endocrine Issues
Hypogonadism
Hypothalamic and pituitary dysfunction is most commonly manifested as hypogonadism, obesity and short stature. Hypogonadism with genital hypoplasia (cryptorchidism, scrotal or clitoral hypoplasia) can be identified in the newborn period. Cryptorchidism is present up to 86% of boys from birth [16, 17] Undescended testes should be treated within the first year of life. There is evidence that early damage to the germ cells that produce sperm begins at this age. Scrotal hypoplasia and small penis however can make orchiopexy and circumcision difficult in infants with PWS. Repeat surgical interventions are frequently required, especially in those infants with underdeveloped scrotal sacs.
The most effective treatment for undescended testes is surgery. The Committee on Genetics, American Academy of Pediatrics however, recommends a therapeutic trial of human chorionic gonadotropin (hCG) for treatment of undescended testes before surgery, because avoidance of general anesthesia is desirable for infants with low muscle tone and potential for underlying respiratory compromise [18]. The precise mechanism of action in regards to testicular descent is unknown but benefits of a course of hCG may include increased scrotal size and partial normalization of phallus length, thereby improving surgical outcomes for undescended testes and facilitating later standing micturition.
Premature adrenarche (PA) is the precocious appearance of pubic and/or axillary hair and less commonly an apocrine odor, comedones, and acne without other signs of puberty or virilization. PA is usually seen before age 8 and 9 years, in girls and boys respectively. PA has been reported in 57% of children receiving GH therapy [19] but in general, pubertal development in PWS is characterized by normal adrenarche, pubertal arrest, and hypogonadism due to variable combinations of a unique primary gonadal defect and hypothalamic dysfunction [20, 21].
At some stage almost all subjects will require sex hormone replacement therapy. Mental retardation should not be a contraindication to allow normal pubertal development or preclude sex hormone replacement at any age in those affected individuals. Regardless of body weight, patients with PWS have increased body fat content. Those individuals with low body weight or significant low sex hormone levels during adolescence and adulthood should be considered for sex hormone treatment. There is no consensus as to the most appropriate regimen for sex hormone replacement therapy in PWS. Intramuscular testosterone is given every 3 -4 weeks. Testosterone gel preparations can be useful in selected cases, although precautions must be taken to avoid cross-contamination. Whatever preparation is preferred, the initial dose should be one third to one half of the normally recommended androgen dose to prevent the aggressive behavior occasionally seen in some individuals. In females with PWS, the use of gonadal hormone replacement should be considered if there is amenorrhea/oligomenorrhea or decreased bone mineral density (BMD) in the presence of reduced estradiol levels. Hypogonadism is a common but not necessarily universal finding in adults with PWS [16, 17]. Sexual counseling and contraceptive treatment should be used as appropriate, especially in the presence of complete sexual maturation, including regular menses. There are a few case reports of pregnancy in females with PWS [22, 23]. Their cognitive dysfunction, social and emotional immaturity and the risk of Angelman syndrome in offspring of PWS deletion mothers prompt us to advise against pregnancy. At present there are no reports of paternity in PWS. Estrogen and androgen status should be monitored yearly during adolescence and adulthood and BMD assessed as indicated by dual-energy x-ray photon absorptiometry.
Adrenal insufficiency
When the pituitary begins to fail, there is generally a specific sequential failure of pituitary hormones, starting with growth hormone (GH), continuing through luteinizing (LH) and follicle stimulating hormone (FSH) deficiency, and culminating in the loss of thyrotropin stimulating hormone (TSH) and adrenocorticotropic hormone (ACTH). Generally ACTH is the last to be affected. Hypothalamic dysfunction is characteristic of individuals with PWS, therefore the clinical manifestations of pituitary hormone deficiency are expected. Short stature and hypogonadism, as a result of GH and gonadotropin (LH and FSH) deficiencies are seen in most individuals with this genetic syndrome. Under normal conditions the secretion of cortisol, the main adrenal glucocorticoid in humans is under the dominant control of pituitary ACTH. Clinical manifestations of adrenal insufficiency, however are uncommon in individuals with PWS.
The circadian peak serum cortisol usually occurs around 0800 hours. An extremely low basal serum cortisol at this time, below 100 nmol/liter (3.62 mcg/dl), may be assumed to demonstrate true cortisol deficiency [24]. However, levels at other times have little diagnostic utility. For this reason, various dynamic tests including insulin tolerance test (ITT), ACTH stimulation and metyrapone test have been devised to assess whether the patient can provide a stress-induced rise in cortisol similar to a normal person. The insulin tolerance test evaluates the integrity of the entire hypothalamic-pituitary axis (HPA) by inducing symptomatic and biochemical hypoglycemia, with cortisol then measured over 120 minutes. Peak cortisol values greater than 550 nmol/liter (19.75 mcg/dl) is considered a normal response. Under supervision by a nurse or physician, the ITT (0.15 U/kg administered intravenously (IV) is relatively safe [24]. The GH reserve can also be estimated with ITT.
Due to the relative inconvenience of the ITT, suggestions have been made to use a simpler and less invasive surrogate. The most widely performed is the short ACTH (Cortrosyn ™) stimulation test, where ACTH 0.25 mg is injected IV or IM and serum cortisol is measure at 0, 30 and 60 minutes. A peak cortisol is defined as normal if it is greater than 550 nmol/liter (19.75 mcg/dl) at any of these time points.
In 2008 a study using the overnight metyrapone test reported a 60% prevalence of central adrenal insufficiency (CAI) in children with PWS [25]. Based on the high prevalence of CAI, the authors suggested treatment with hydrocortisone during acute illness in patients with PWS unless CAI has recently been ruled out with a metyrapone test. ITT, as the gold standard dynamic test suggests that metyrapone test with an ACTH cut off of 33 pmol/l yields a high false positive rate. In our experience in the PWS center at Winthrop University Hospital, New York, we have not found any abnormal response to ITT or low cortisol levels during surgical stress of different natures. Three recent studies using a more sensitive stimulation and spontaneous acute stress in larger numbers of patients did not find high prevalence of central adrenal insufficiency in Prader-Willi syndrome [26–28]. Thus rather than common, CAI seems to be a rare event in children and adults with PWS, however, they should be evaluated and treated accordingly.
Growth & Growth hormone deficiency
Length in newborns with PWS is normal but there is significant decrease in growth velocity after age 2-3 years with final adult height ~ 2 standard deviations (SD) below the mean for the normal population [29–31]. Only a small percentage of children with PWS are GH sufficient, thus provocative testing is not required in the face of reduced growth velocity.
Multiple studies have documented the benefits of GH therapy in individuals with PWS including, but not limited to, improvements in lean body mass, decreased body fat, increased bone mineral density, and normalization of adult height [19, 32–37]. The benefits of starting GH treatment as early as age 2 years are well established, but there is increasing evidence of additional benefit to starting therapy between ages 6-12 months, particularly in terms of motor development, muscle, head circumference, and possibly cognition [35–38].
It should be stressed that GH therapy should be used in conjunction with appropriate nutritional intake and physical activity. GH treatment should not be viewed as a substitute for diet and exercise. Treatment should commence using standard dose guidelines (0.18-0.3 mg/kg/week), given as a daily subcutaneous injection with careful monitoring of clinical status at regular intervals. Careful history and assessment of nutritional status, scoliosis, respiratory and sleep abnormalities should be evaluated prior to and during GH therapy.
Recent studies indicate that adults with Prader-Willi syndrome may also benefit from GH replacement therapy, with improvements in body composition, bone mineral density, exercise capacity, quality of life and well-being [39–45]. Treatment doses are typically started at 0.2 mg/day and increased by 0.2 mg increments as necessary to maintain IGF-1 levels within the normal range for age and gender. At the present time, documentation of GH deficiency by provocative testing is required for adults with PWS to receive insurance authorization for GH treatment in the United States. These patients should be monitored with IGF-1, glucose, insulin, lipid profile, BMD and cardiac evaluation during GH treatment [46].
Central hypothyroidism as a result of hypothalamic dysfunction can also be seen in individuals with PWS. Periodic monitoring of thyroid function, fasting plasma glucose and insulin level is strongly recommended regardless of growth hormone therapy.
Neurocognition and Behavior
Decreased intellectual functioning was among the four original defining characteristics of PWS [1]. Subsequent studies document a typical neurobehavioral profile that includes altered intellectual functioning and centrally driven maladaptive behaviors, including the hallmark hyperphagia that exists in the context of a more extensive food related behavioral constellation, an age related emotional and behavioral profile, altered sensory processing, social deficits and for many a predictable psychiatric profile [47–51].
Gastrointestinal Issues
Abnormal surges in ghrelin may precede the characteristic hyperphagia seen in PWS. Whether this causes or is the result of the lack of satiety in PWS is not clear. Left unchecked, lack of appetite control can lead to morbid obesity. Low calorie and well balanced diets with rigorous supervision and restriction of food access combined with regularly scheduled meals and activities are recommended [15]. Reduced energy requirements have been reported for children with PWS as compared to healthy, age matched controls [103–105]. Those initiating growth hormone replacement therapy may require increased caloric load during the initial muscle building phase, but once lean mass accretion has stabilized, a reduced caloric limit may again be needed.
Poor oromotor control, muscle hypotonia and voracious eating with a limited time for mastication of food may lead to choking episodes. Choking accounts for approximately 8% of all PWS deaths. Binge eating has been seen in both obese and lean individuals with PWS. Acute gastric distention with necrosis and death has been reported with and without binging behavior. While acute gastric distention is frequently accompanied by vomiting in the general population, individuals with PWS have a decreased ability to vomit and may be missed due to lack of this important finding. These issues may be further complicated by their increased tolerance to pain which may be in part responsible for delays in seeking medical attention related to these episodes.
Musculoskeletal Issues
The prevalence of scoliosis in PWS is high (30% before 10 yr of age; 80% after age 10 years) [106–109]. Many patients shows progression of scoliosis with age irrespective of the use of GH and therefore scoliosis should no longer be considered a contraindication for GH treatment in children with PWS.
Most published reports of scoliosis in children with PWS have been retrospective. Recent evaluation of concerns regarding worsening of scoliosis in patients currently receiving GH have not been substantiated [110, 111]. Prospective studies however are warranted. Studies by Shim et al [111] showed a high prevalence of spinal deformity, limb malalignment and foot abnormalities. This group found correlations between various musculoskeletal abnormalities, independent of obesity, but noted that obesity may conceal some of these abnormalities, especially in the early stage. At this time annual musculoskeletal evaluations are recommended for scoliosis, hip dysplasia, foot abnormalities and lower limb malalignments [112].
Slipped femoral capital epiphysis is seen with increased frequency in otherwise healthy, obese children. This has not been reported with increased frequency in children with PWS.
Early work [113] compared gait strategies in patients with PWS with those of both obese and non obese healthy patients. Adults with PWS in their study were found to walk slower, with shorter stride length, lower cadence and longer stance phases compared to non PWS controls. Range of motion at the level of the knee and ankle and plantar-flexor activity were significantly reduced. Spatio-temporal gait parameters in adults with PWS were further evaluated. Using 3 D gait analysis in an attempt to develop rehabilitation therapies, Cimolin et al [113] found that participating adults with PWS showed cautious abnormal gait strategies characterized by longer stance duration, reduced anterior step length and lower velocity of progression. Hip flexion with a forward pelvic tilt was present throughout the gait cycle. Investigators felt that this reflected an attempt to achieve balance and stability in the face of excessive body weight.
Prognosis
While there is no cure for Prader-Willi syndrome, major strides to improve quality of life have been made since the introduction of more sensitive genetic testing modalities which has allowed early diagnosis and intervention. The early use of GH has improved final adult height, body composition and muscle strength. Obesity and the consequences of obesity continue to be major risk factors for mortality in persons with PWS, even after correction for the effect associated with intellectual disability [114].
Consent
Written informed consent was obtained from the parent/guardian of the patient for publication of the accompanying image.
Authors' Affiliations
(1)
The Prader-Willi Syndrome Center at Winthrop University Hospital, Mineola, USA
(2)
Huntington Medical Group, PC, Sleep Disorders Center, Huntington Station, USA
(3)
Saint Louis University School of Medicine, St. Louis, USA
Copyright
© Cataletto et al; licensee BioMed Central Ltd. 2011
This article is published under license to BioMed Central Ltd. This is an Open Access article distributed under the terms of the Creative Commons Attribution License (http://creativecommons.org/licenses/by/2.0), which permits unrestricted use, distribution, and reproduction in any medium, provided the original work is properly cited.