A novel CaSR mutation presenting as a severe case of neonatal familial hypocalciuric hypercalcemia
International Journal of Pediatric Endocrinology
2012
2012:13
Received: 21 February 2012
Accepted: 23 May 2012
Published: 23 May 2012
Abstract
Background
Familial Hypocalciuric Hypercalcemia (FHH) is a generally benign disorder caused by heterozygous inactivating mutations in the Calcium-Sensing Receptor (CaSR) gene resulting in altered calcium metabolism.
Objective
We report a case of unusually severe neonatal FHH due to a novel CaSR gene mutation that presented with perinatal fractures and moderate hypercalcemia.
Case overview
A female infant was admitted at 2 weeks of age for suspected non-accidental trauma (NAT). Laboratory testing revealed hypercalcemia (3.08 mmol/L), elevated iPTH (20.4 pmol/L) and low urinary calcium clearance (0.0004). Radiographs demonstrated multiple healing metaphyseal and rib fractures and bilateral femoral bowing. The femoral deformity and stage of healing were consistent with prenatal injuries rather than non-accidental trauma (NAT). Treatment was initiated with cholecalciferol, 400 IU/day, and by 6 weeks of age, iPTH levels had decreased into the high-normal range. Follow up radiographs demonstrated marked improvement of bone lesions by 3 months. A CaSR gene mutation study showed heterozygosity for a T>C nucleotide substitution at c.1664 in exon 6, resulting in amino acid change I555T in the extracellular domain consistent with a missense mutation. Her mother does not carry the mutation and the father is unknown. At 18 months of age, the child continues to have relative hyperparathyroidism and moderate hypercalcemia but is otherwise normal.
Conclusion
This neonate with intrauterine fractures and demineralization, moderate hypercalcemia and hyperparathyroidism was found to have a novel inactivating missense mutation of the CaSR not detected in her mother. Resolution of bone lesions and reduction of hyperparathyroidism was likely attributable to the natural evolution of the disorder in infancy as well as the mitigating effect of cholecalciferol treatment.
Keywords
FHHNeonatal hyperparathyroidismHypercalcemiaNHPTCaSRVit D
Introduction
Familial hypocalciuric hypercalcemia (FHH) is an autosomal dominant disorder characterized by modestly elevated serum calcium (Ca), inappropriately high parathyroid hormone (PTH) levels and low urinary Ca excretion [1]. FHH is caused by inactivating mutations of the gene encoding the Calcium-Sensing Receptor (CaSR), a seven transmembrane G-protein-coupled receptor. The CaSR is expressed primarily in parathyroid chief cells and renal tubular cells and activates an intracellular signaling cascade to maintain serum calcium levels within a narrow range. The gene for the CaSR is located on chromosome 3q13.3–21 and encodes for a 1078 amino acid sequence. Normally, elevated levels of serum calcium activate the CaSR which then inhibits both the secretion of PTH in the parathyroid glands and the reabsorption of Ca2+ and Mg2+ in the renal tubules. Therefore an inactivating mutation of the CaSR leads to an elevated set point for serum Ca with the consequence of having both inappropriate secretion of PTH and renal reabsorption of Ca2+[2].
The clinical impact of these mutations, at least 250 of which have been reported, is highly variable and ranges from totally asymptomatic to fatal. In the neonatal period, homozygous inactivating mutations result in neonatal severe hyperparathyroidism (NSHPT) with severe symptomatic hypercalcemia, undermineralized bones, rib cage deformity, and long-bone and rib fractures [3]. This condition requires aggressive medical management often including emergent parathyroidectomy and can be fatal. Neonatal heterozygous inactivating mutations are usually associated with modest hypercalcemia and hyperparathyroidism with mild or absent bone disease which gradually evolves to a more benign FHH phenotype [4–7]. Lastly, heterozygous FHH can go wholly unrecognized for years until elevated serum calcium is noted [8].
Herein, we present the case of a newborn girl with a novel heterozygous inactivating mutation of the CaSR gene, severe hyperparathyroidism, overt skeletal demineralization, and perinatal fractures who was treated with cholecalciferol to moderate her clinical course.
Case presentation
A full term, healthy infant girl born via a normal spontaneous vaginal delivery presented at 2 weeks of age in a Massachusetts emergency room for evaluation of increased irritability and mild cough. Chest x-ray showed a healing left proximal humeral metaphyseal fracture and bilateral healing ribs fractures (Figure 
1
) prompting admission for suspicion of NAT.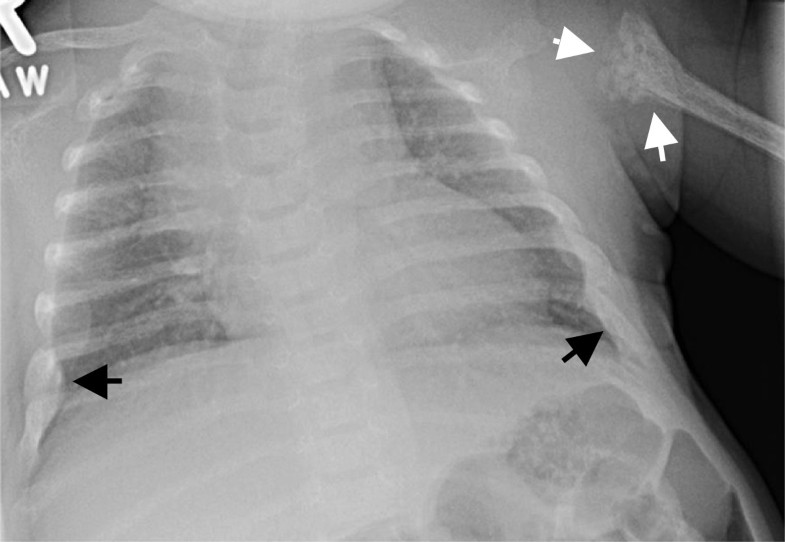 Discussion
The severity of the clinical picture in this case including intrauterine fractures was unusual. Classical FHH due to a heterozygous loss of function (LOF) mutation of the CaSR can go unrecognized for years and only rarely is diagnosed in the neonatal period. However, heterozygous forms of FHH with overt neonatal bone disease are described in the literature and are typically defined as NHPT [5–7, 10]. Possible causes of the more severe phenotype seen in these cases include the specific type of CaSR gene mutation, paternal versus maternal inheritance, prematurity and maternal vitamin D deficiency [4, 8].
Conclusion
In summary, this report describes a case of neonatal FHH secondary to a heterozygous inactivating missense mutation within the CaSR gene that presented with severe hyperparathyroidism, overt neonatal skeletal demineralization and perinatal fractures. We reviewed the possible causes of the uncommonly severe clinical picture and its resolution. And finally, we discussed the theoretical role of cholecalciferol in supporting the infant with clinically significant neonatal FHH via PTH suppression. This child will require careful follow-up as her PTH level still remains elevated placing her at risk of clinical hyperparathyroidism in the future as well as monitoring for the development of primary HPT which has been reported in cases of FHH.
Consent
Informed consent was obtained from the patient's family for publication of this case and any accompanying images.
Authors' Affiliations
(1)
Baystate Children's Hospital, Tufts University School of Medicine, Springfield, USA
(2)
Baystate Medical Center, Tufts University School of Medicine, Springfield, USA
Copyright
© Tonyushkina et al.; licensee BioMed Central Ltd. 2012
This article is published under license to BioMed Central Ltd. This is an Open Access article distributed under the terms of the Creative Commons Attribution License (http://creativecommons.org/licenses/by/2.0), which permits unrestricted use, distribution, and reproduction in any medium, provided the original work is properly cited.